Zhejiang Dali Technology Co., Ltd., General Manager - Mr. Pang Huimin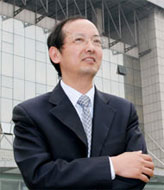 Dali Technology, from the beginning to now, has gone through 20 years business, 20 years development, 20 years harvest, changed from the Institute of Testing Technology, Zhejiang Province to Zhejiang Dali Technology Co., Ltd. , we have completed the system reformation but also transformed the system form a public research institute to a hi-tech enterprise in manufacture orientation.
Dali Technology today, has two major research centers- Hangzhou and Shanghai, industrial production base covers more than thirty thousand square meters . Infrared thermal imaging devices and embedded DVR are widely sold not only demestically but also over the five continents, the global market sales and service system has been built, today we have become a famous brand.
Our goal is 'Based on high-tech,aim to top-rank enterprise',Dali people's principle to bult uu our business and pay back the socialty is'advanced technology ebsure your reassurance,superior service meet your satisfaction'.
Our permernent peinciple to keep top-rank is 'Technology makes customers to assure, service makes customers to satisfy'.We will keep exloring the new technology which can leads the future and make all our customers around the world to benefit from dali's progress and developement.
Your support makes our belief firm, Here we express sincerely appreciation for your close attention and kind solicitude! We must work harder and make more effort,forever!